Welcome to Twin Lakes, Iowa!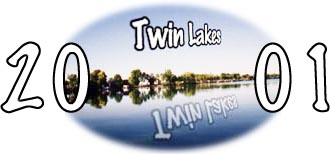 Sail through the pages to learn about events at Twin Lakes this summer and learn about Twin Lakes.
These pages are brought to you by the Twin Lakes Events Committee. When you see a committe member, thank them for all their hard work!
---
The maps are here. Get the big picture and narrow it down. Or get right to the lake itself here.
Almost every Sunday in the summer, the Twin Lakes Sailing Association holds races. The schedule and TLSA member information will be posted when it is available. In the mean time, you can read rules, visit Crab, yadda, yadda, yadda.

We have the date and details for this year's Bike Ride!
No information on the 10 K / 5K run yet!
We have the details and theme for this year's boat parade and lake front decorating contest here.
Fourth of July FIREWORKS! Read all about them.
Email someone today!
Bike Ride contact here: PEDAL;
Fireworks contact here: BOOM;
Boat parade contact here: SPLASH;
Talk to Crab: YADDA, YADDA;
Page designer:
---
Sign the Guestbook
View the Guestbook
Tell your friends about this page! Click here to tell your friends.
---
All graphics and photos on these pages are by

, unless otherwise noted. Be creative and build your own instead of stealing these.